3/8" X 7/8" X 1/2" X 50' Line Set
3/8" X 7/8" X 1/2" X 50' Line Set
38.78.12.50LS
MFG #: 61420500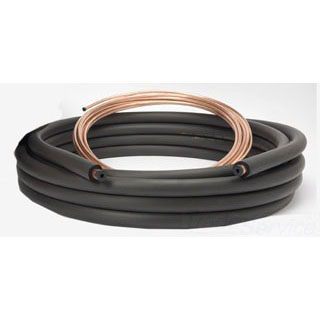 Star Spangled Savings
This product qualifies for our July Star Spangled Savings promotion. Click here for more details.
Description
Documents
Specifications
Line Set
Applicable Standard UL (Canada and US)
Inside Diameter 3/8" Liquid Line, 7/8" Suction Line
Length 50'
Material Copper
Pressure Rating 700 PSI
Application Industrial
Insulation 1/2"
Inclusion Thermostat Wire, Mini-Split Wire or Control Cable, Taping, Flare Nuts, 90 Degree Bends, Custom Connections and Assemblies
Nitrogen and Refrigerant Charged Line
Straight End
Streamline Line Sets have Been an Industry Leader for Decades. We Leverage Our Many Years of Experience and Expertise Producing Copper Tube in Every Line Set we Make. From Liquid Line and Suction Line Handling to Unique Insulation Applications and Packaging, Every Streamline Line Set Meets Our Rigorous Standards for Quality and Consistency. With a Broad Offering of Liquid Line and Suction Line Diameters, Insulation, Thicknesses, Custom Ends and Connections-Plus a Wide Array of Custom Options, we are Able to Meet Our Customers Most Specialized and Exacting Needs. Insulated Liquid and Suction Lines for Mini-Split and Twin Tube Systems.