T3016US Nest Black 3rd Generation Learning Thermostat
T3016US Nest Black 3rd Generation Learning Thermostat
NEST3016US
MFG #: T3016US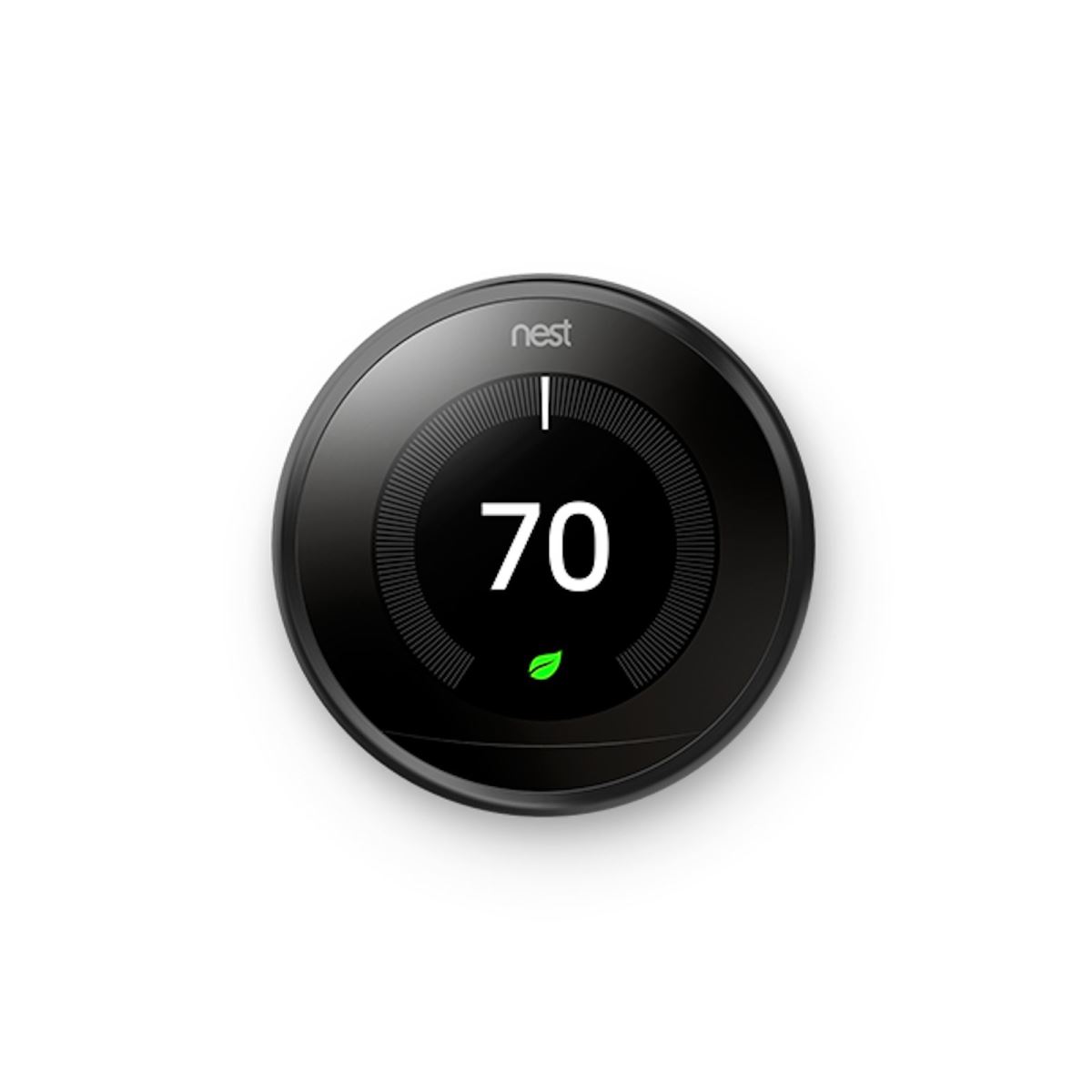 Promotion:
This product qualifies toward a $50 gift card through the Shot in the Arm promotion.
Click here for Details
Description
Documents
Specifications
Generation: 3rd Generation
Color: Black
Screen: 24-bit color LCD, 480 x 480 resolution at 229 pixels per inch (PPI), 2.08 in (5.3 cm) diameter
Languages: English (US, UK), Dutch, French (Canada, France), Italian, Spanish (Americas, Spain)
Compatibility: The Nest Learning Thermostat works with 95% of 24V heating and cooling systems, including gas, electric, forced air, heat pump, radiant, oil, hot water, solar and geothermal
Heat pump: With auxiliary and emergency heat (O/B, AUX, E)
Cooling: 1 and 2 stages (Y1, Y2)
Heating: 1,2, and 3 stages (W1, W2, W3)
Sensors: Temperature, Humidity, Near-field activity, Far-field activity, Ambient light
Wireless: Wi-Fi 802.11b/g/n @ 2.4GHz, 5GHz, 802.15.4 @ 2.4GHz, Bluetooth Low Energy (BLE)
Battery: Built-in rechargeable lithium-ion battery
Power consumption: Less than 1 kWh/month
Remote control requirements: Wi-Fi connection with internet access, Nest app on phone or tablet with Android or iOS, Latest version of Safari, Chrome, Firefox or Internet Explorer on Mac OS X v10.9 or later and Windows 7 or later
Certification: ENERGY STAR
Meet the 3rd gen Nest Learning Thermostat. It has new rings and a big, sharp display. And it saves energy. That's the most beautiful part. The Nest Learning Thermostat is the first thermostat to get ENERGY STAR certified. It learns what temperature you like and builds a schedule around yours. Since 2011, the Nest Thermostat has saved billions of kWh of energy in millions of homes worldwide. And independent studies showed that it saved people an average of 10% to 12% on heating bills and 15% on cooling bills.