7100043750 Venture 3" X 50 Yd Plain Foil Duct Tape
7100043750 Venture 3" X 50 Yd Plain Foil Duct Tape
VEN3520CW3
MFG #: 7100043750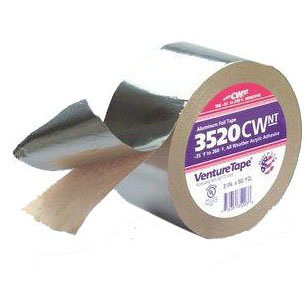 Promotion:
This product qualifies toward a $50 gift card through the Shot in the Arm promotion.
Click here for Details
Description
Specifications
Foil Tape
Type Adhesive Tape, Duct Tape
Material Aluminum
Length 50 Yard
Width 3"
Adhesive Type Acrylic
Service Temperature -40 to 250 Deg F
Elongation? 4 Percent
Tensile Strength? 21 Lb
Thickness 3.5 Mil
Product Form? Roll
Approval UL723
A 2 Mil, High Strength Aluminum Foil with an Aggressive, High Temperature Acrylic Adhesive System. Provides an Excellent Vapour Seal on Fibrous and Sheet Metal Ducts. Malleable Foil Conforms Well Around Corners and to Irregular Surfaces. Special Cold Weather Acrylic Pressure Sensitive Adhesive System Combines Superior Quick Stick at Normal Temperatures with Superior Low Temperature Performance the Ultimate in Cold Weather Tapes, Excellent at Normal and Elevated Temperatures.